Self-guided trip to Chantilly
3 day(s)
What you'll love:
Enjoying a languorous moment in the village of Giverny after a glorious ride in a classic car,
Admiring the extensive, diverse natural setting and architectural heritage of the Vexin Français Regional Natural Park and the villages, castles and churches there,
Marveling at the majestic beauty of the Château de Chantilly and its estate.
Located between the charming village of Giverny and the extraordinary Château de Chantilly, the Vexin Français Regional Natural Park offers unobstructed points of view over limestone plateaus crisscrossed with valleys. 
Considered the bread basket of Paris for several centuries, the Vexin Français Regional Natural Park is brimming with natural and architectural treasures. Woodlands, fields and rolling hills stretch as far as the eye can see, and every turn reveals a new marvel such as a medieval church or a Renaissance castle.
Your vintage car road trip
DAY 1
Versailles - Giverny
Departing from Versailles, just sit back and follow our tour-oriented digital application to the exquisite village of Giverny, the first stopover of your road trip in a vintage car. Reserve a night at your choice of charming accommodation and discover the simple joys of languor.
DAY 2
Giverny - Chantilly
The next day, climb back behind the wheel of your classic car and explore the authentic beauty of Vexin Français Regional Natural Park. On your way to Château de Chantilly, enjoy touring one of the most beautiful villages of France, taking in clear views of the Seine River as it was painted by the Impressionists, and perhaps visiting your choice of the many castles and museums on offer.
DAY 3
Chantily - Versailles
The road trip continues as you head for Versailles in a classic car. Stop over at Auvers-sur-Oise and discover its little-known heritage, as well as the history of the Impressionist painters that stayed there over the years.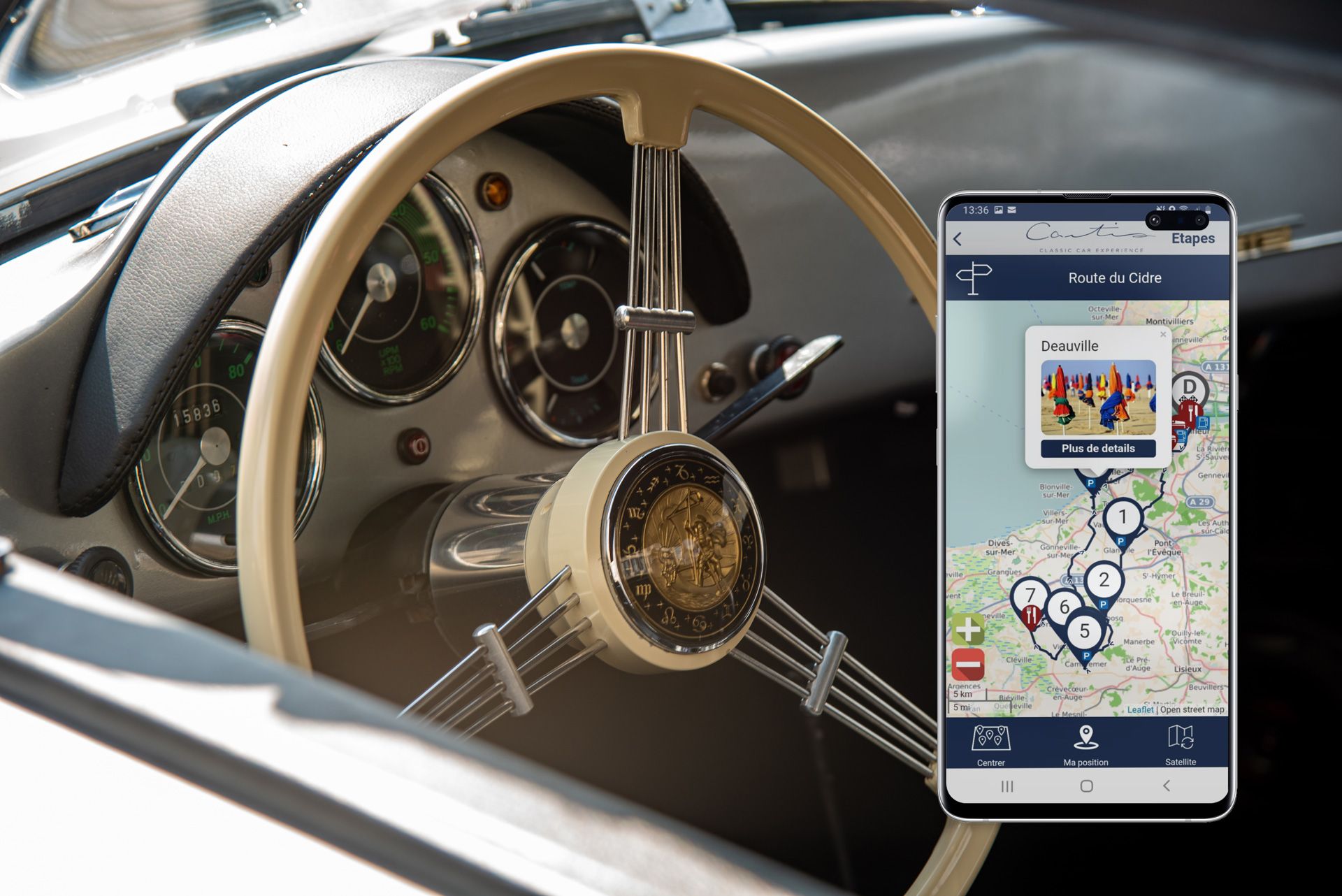 Our digital tourist application
Installed onboard each of our classic cars. No need for a map or guide!  The Cartis audio-guided GPS app is a revolution on the classic car rental market. This self-guided GPS audio app is built into each car. Simply turn the key, activate the GPS, and enjoy your classic car journey to the fullest.
Fonctionnalities :
Onboard GPS navigation
A genuine tour guide
Geofencing
Offline display
Off-route alerts
Printed travel guide
Your Cartis classic car rental includes :
Rental of the classic car of your choice
Provision of our tour-oriented audio guide GPS application
Inclusion of our travel logs pinpointing the places of interest
The planting and sustainable management of a tree on your behalf
Our recommendations of the best hotels, restaurants and local farms
The service does not include the reservation of hotels, restaurants or leisure activities.







"What a great car! Bénédicte and Sebastian's Porsche 912 was the perfect car for a trip to Chantilly! The travel log was perfect. Very nice adresses."
Brian C - Indianapolis - March 31, 2023