1962

4 cylinders - 1.6L

manual

Black

2 seats

2 doors

1.85 m max

SP 98
"A break with tradition"
Driven in Blue Hawaii by the King himself, Elvis Presley, as well as being Petula Clark's car of choice, the MG A was born out of the prototypes from the 1955 24 Hours of Le Mans race and manufactured in strict accordance with the English roadster tradition.
Although designed in the spirit of the first sports models created by Cecil Kimber, the enigmatic founder of the MG (Morris Garage) brand, it was in fact an utter breakaway from the trends of the time.
Lightweight (with both the doors and hood made of aluminum), it delivered a remarkable performance for its era, reaching 100 km (62 miles)/h in 15 seconds and a maximum speed of 160 km (100 miles)/h. With its sensual, curved silhouette and its relative ease of driving, the MG A represented technological advances in terms of comfort, performance, safety, and, of course, design.
Rental terms

27 years of age minimum
75 years of age maximum
Driver's license: currently valid and issued for more than 3 years. A license issued in France or elsewhere in the EU must carry more than 8 points and must not have been suspended in the 24 months preceding the rental.
A license issued abroad (outside the EU) must be completed by an international license or a certified French language translation of the original version.
Mileage limit: 150 km / 93 miles per day.
In excess of mileage limit: €2.50 per km.
Smoking and pets are prohibited inside the car.
Wedding rentals and sub-leasing are unauthorized.


Cancellation terms

If the cancellation occurs more than one month before the rental period, Cartis reimburses 100% of the amount. If the cancellation occurs more than 15 days and less than one month before the rental period, Cartis reimburses 50% of the total amount. If the cancellation occurs 15 days or fewer before the rental period, Cartis does not reimburse the amount of the rental, but issues a credit note valid in the three months following the initial date of rental.

Documents required

A valid driver's license (see rental terms)
Photo ID (national identity card or passport)
Proof of address for residents of France
Credit or debit card in the driver's first and last name for the security deposit (AMEX cards not accepted) 

Insurance

All-risk, all-driver insurance
Individual driver coverage
 Insurance: You are covered in case of theft, fire, and accidental damage.
Assistance: You are covered by personal and vehicle assistance in case of breakdown or accident, including the provision of a modern replacement vehicle.

Deductible

€4,000. A security deposit is requested as pre-approval on the credit or debit card in the first and last names of the driver.

Rates

From €750 tax-inclusive per day depending on the season
Our digital tourist application
To ensure that you make the most of your Cartis car rental, each vehicle is equipped with an onboard tour-oriented GPS application.
A true digital innovation, it guides you throughout your road trip through the French countryside in a collector car.
A comprehensive tour guide with an audio option, this digital tourist application indicates the approach of each point of interest and tells you the history behind it.
Your Cartis classic car takes you on an exceptional tour mingling the advantages of a cultural excursion with the liberty of the open sky and fascinating landscapes.
Settle in behind the wheel of a vintage car from the golden age of automobiles and let the GPS guide you through a breathtaking tour.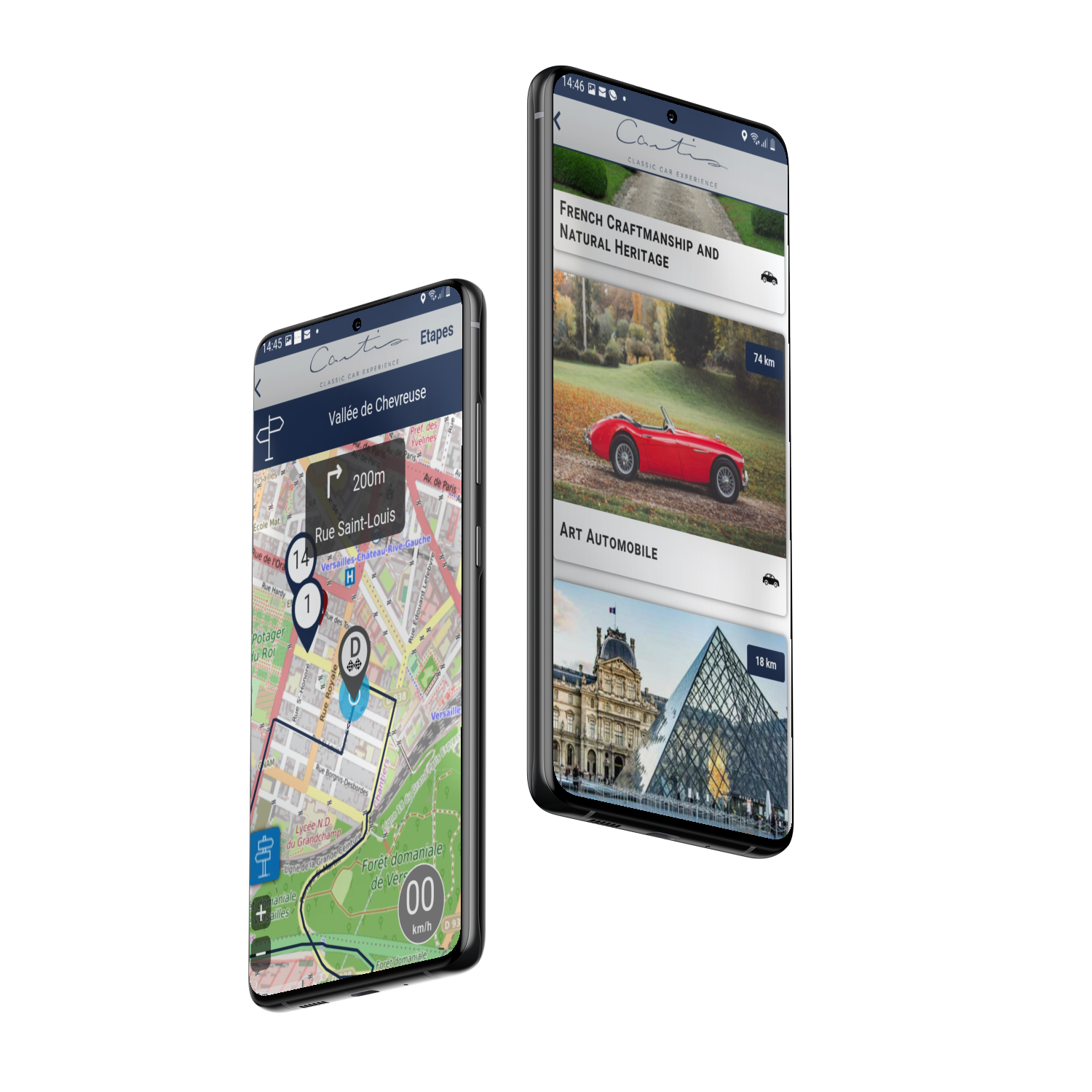 "We absolutely loved our exciting tour with the Cartis MGA. Driving through Chevreuse Valley in this awesome car was the best thing we ever did in Paris area. We definitely will enjoy this adventure again! Thank you so much for the great hospitality!"
Fanny C. - Washington DC - April 3 2023
"Da ging ein lang gehegter Traum in Erfüllung. Alles einwandfrei. Sebastien hat sich viel Zeit genommen bei der Einführung. Es hat alles reibungslos geklappt. Ein großes Danke an Sebastien für einen tollen Tag !
Fahrzeug toll in Schuss. Vermieterund wir hatten einen sehr netten Erfahrungsaustausch. Alles reibungslos und unkompliziert."
Marccus J. - Hamburg - August 17, 2022
"We had a fab day with your MGA! Perfect weather to be out in the convertible. Car pick up and drop off were easy."
Lauren P. - Philadelphia - August 07, 2022

+33 6.63.22.76.84