Rent a Morgan Roadster 4/4

1969

4 cylinders

manual

Navy blue

2 seats

2 doors

1.85 m max

SP 98
"In a Morgan, one doesn't simply move, one travels. One doesn't simply drive, one takes command," Pierre Henri Mahul, importer of the car to France.
American fashion designer Ralph Lauren started his career in a cream-colored 1961 Morgan 4/4. Impressed by its elegance, he still owns one today as part of his collection. This model, a unique classic full of charm, embodies the quintessence of English craftsmanship. An icon of the English automobile industry created in 1909, the Morgan comprises a wooden structure with metal plates attached.
This handcrafted design has remained unchanged since the 1930s. To fully appreciate the Morgan experience, it must be driven with the top down. Proud owners of this model would sooner pop open an umbrella when the car is stationary than put the top up. Ralph Lauren is one prime example, once known to say that "real Morgan owners don't drive with the top up".
Rental terms

27 years of age minimum
75 years of age maximum
Driver's license: currently valid and issued for more than 3 years. A license issued in France or elsewhere in the EU must carry more than 8 points and must not have been suspended in the 24 months preceding the rental.
A license issued abroad (outside the EU) must be completed by an international license or a certified French language translation of the original version.
Mileage limit: 150 km / 93 miles per day.
In excess of mileage limit: €2.50 per km.
Smoking and pets are prohibited inside the car.
Wedding rentals and sub-leasing are unauthorized.


Cancellation terms

If the cancellation occurs more than one month before the rental period, Cartis reimburses 100% of the amount. If the cancellation occurs more than 15 days and less than one month before the rental period, Cartis reimburses 50% of the total amount. If the cancellation occurs 15 days or fewer before the rental period, Cartis does not reimburse the amount of the rental, but issues a credit note valid in the three months following the initial date of rental.

Documents required

A valid driver's license (see rental terms)
Photo ID (national identity card or passport)
Proof of address for residents of France
Credit or debit card in the driver's first and last name for the security deposit (AMEX cards not accepted) 

Insurance

All-risk, all-driver insurance
Individual driver coverage
 Insurance: You are covered in case of theft, fire, and accidental damage.
Assistance: You are covered by personal and vehicle assistance in case of breakdown or accident, including the provision of a modern replacement vehicle.

Deductible

€4,000. A security deposit is requested as pre-approval on the credit or debit card in the first and last names of the driver.

Rates

From €950 tax-inclusive per day depending on the season
Our digital tourist application
To ensure that you make the most of your Cartis car rental, each vehicle is equipped with an onboard tour-oriented GPS application.
A true digital innovation, it guides you throughout your road trip through the French countryside in a collector car.
A comprehensive tour guide with an audio option, this digital tourist application indicates the approach of each point of interest and tells you the history behind it.
Your Cartis classic car takes you on an exceptional tour mingling the advantages of a cultural excursion with the liberty of the open sky and fascinating landscapes.
Settle in behind the wheel of a vintage car from the golden age of automobiles and let the GPS guide you through a breathtaking tour.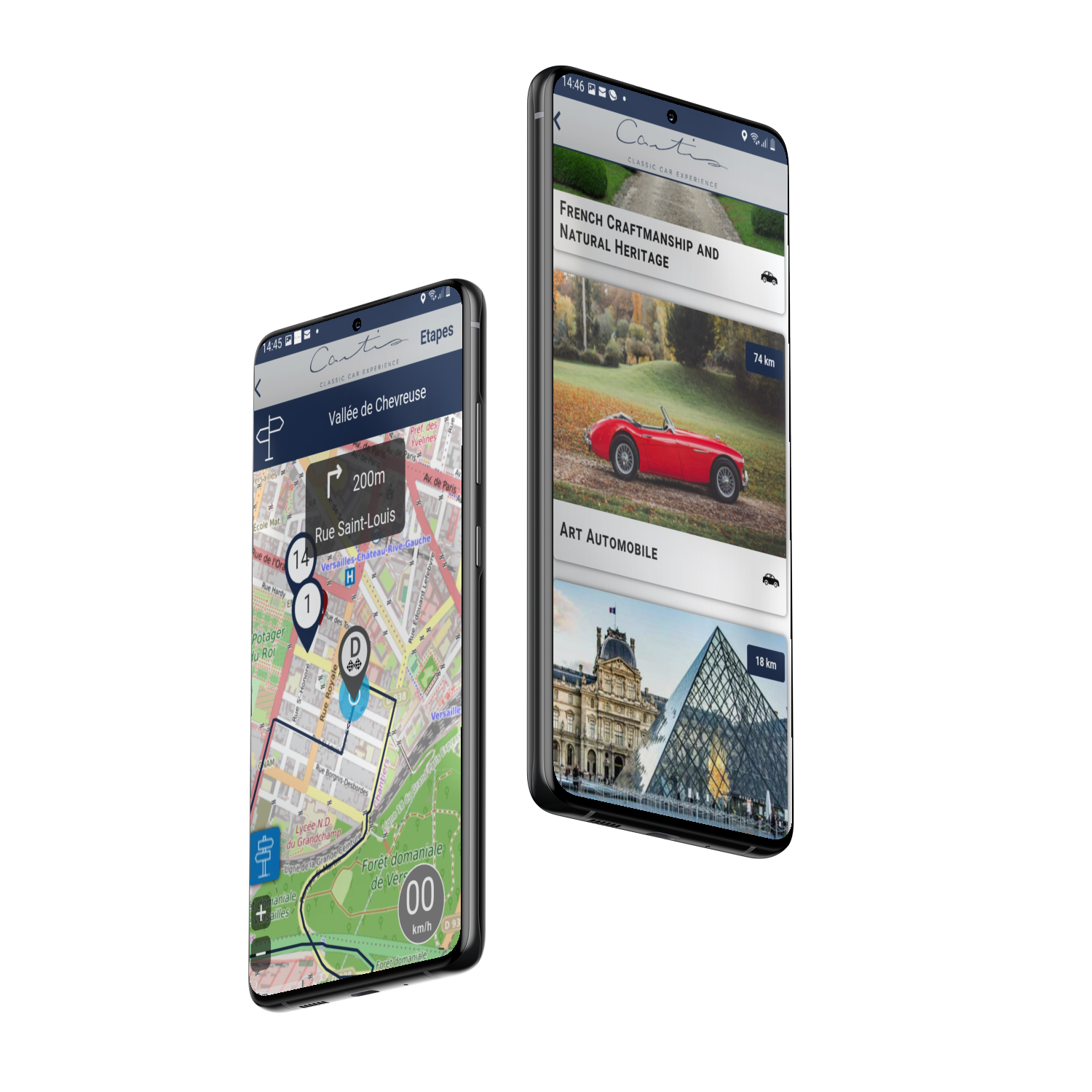 "Danke für das tolle Erlebnis im Morgan Cabrio. Wir kommen gern wieder auf Ihre tollen erstklassigen Autos zurück."
André K. - Düsseldorf - September 12, 2022
"What an amazing experience, I lost count of how many people photographed us, smiled at us,complimented us, flashed a thumbs-up. We had such a great time driving this Morgan over the weekend. Benedict was also very helpful and went above and beyond to provide amazing service!. Would definitely rent again from Cartis in the future!"
Ron D. - Los Angeles - December 28, 2022

+33 6.63.22.76.84