Honfleur and The Cider Road
3 day(s)
What you'll love:
Leaving the beaten path with a departure from Versailles to reach the coast of Normandy,
Cruising through the picturesque roads of Honfleur, where you'll find authentic boutiques and breathtaking scenery,
Admiring the lush apple orchards and typical villages of the back country of Normandy.
"Living in Honfleur was always my greatest dream"
Charles Baudelaire
This magnificent spot has been built up for more than 1,000 years, and its name is thought to be derived from "Honna Flow," a reminder of Viking invasions. 
Through the ages, it has been both a bastion against enemies and a trading port turned to the distant horizons of exploration.
A resort town for the Impressionist painters of the 19th century, Honfleur has maintained every ounce of its authenticity, with its timber-framed façades, slate roofs and cobblestone lanes.
This charming town is just one stopover in the postcard-perfect beauty of the Pays d'Auge. A number of typical villages await you as you travel through the back country of Normandy. 
Your vintage car road trip
DAY 1
Versailles - Giverny
Set out on the road well-known to the Impressionist painters. After a classic car excursion to the exceptional sights of Chevreuse Valley, stop over at the picturesque village of Giverny. .
You'll reach the authentic town of Honfleur, one of the cradles of the Impressionist movement. Enjoy a stroll through the center of town and discover its stunning port, narrow lanes and typical boutiques.
Select the Cider Route road trip and follow the instructions of the Cartis digital application to discover the many wonders of Normandy's back country. Its authentic villages have countless hidden treasures to reveal. Complete your jaunt with a generous gourmet experience at one of our recommended restaurants. Savor each moment at the wheel of the collector car, and admire the fabulous, unique landscapes of the Pays d'Auge.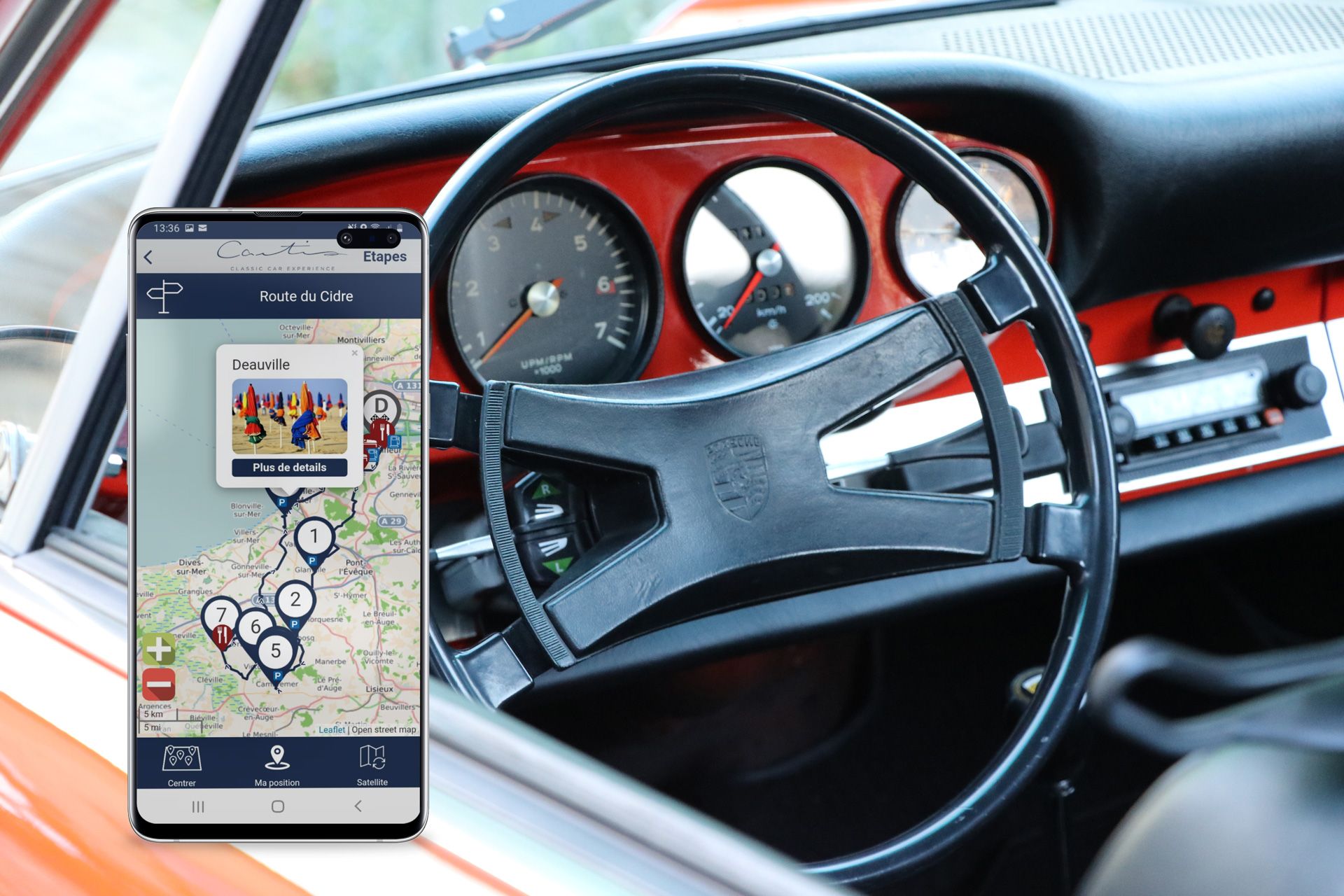 Our digital tourist application
Installed onboard each of our classic cars. No need for a map or guide!  The Cartis audio-guided GPS app is a revolution on the classic car rental market. This self-guided GPS audio app is built into each car. Simply turn the key, activate the GPS, and enjoy your classic car journey to the fullest.
Fonctionnalities :
Onboard GPS navigation
A genuine tour guide
Geofencing
Offline display
Off-route alerts
Printed travel guide
Your Cartis classic car rental includes :
Rental of the classic car of your choice
Provision of our tour-oriented audio guide GPS application
Inclusion of our travel logs pinpointing the places of interest
The planting and sustainable management of a tree on your behalf
Our recommendations of the best hotels, restaurants and local farms
The service does not include the reservation of hotels, restaurants or leisure activities.