Versailles and surroundings
1 day(s)
What you'll love:
Heading down the winding roads of one of the legendary stages of the Tour de France,
Rambling through Rambouillet and leaving passersby enthralled with the thrumming purr of a vintage motor,
Admiring the beauty of this lesser-known region so close to Paris.
Rent our classic cars and discover the authentic landscapes and exceptional treasures of Chevreuse Valley. Explore this untamed countryside, a verdant haven just a few miles from Paris.
The beauty of this natural park has made it a getaway for such stars as Brigitte Bardot, Charles Aznavour, Charles Trenet, Gilbert Bécaud, Georges Pompidou, and more recently Guillaume Canet. Our itinerary, our travel log, and our tour-oriented audio guide GPS application sweep you away for an unforgettable experience in a classic car to discover this exceptional setting.
Your vintage car road trip
Our tour-oriented GPS audio guide leads you through the Haute Vallée de Chevreuse Regional Natural Park. Manors, chapels, mills and churches pepper the heart of the Natural Park of the Haute Vallée de Chevreuse. There are more than thirty castles or large estates to discover here and there, seemingly at every bend, as reminders of the monarchy's influence on the region.
Discover the Vaux de Cernay Abbey, Rambouillet, its castle and its protected forest, and don't miss the beautiful villages of Yvelines such as Montfort l'Amaury.  Reserve lunch at one of the finest gourmet restaurants of the region. Cruise along the valley's roads and take the time to savor this unique experience, an unforgettable getaway far from the hubbub of Paris.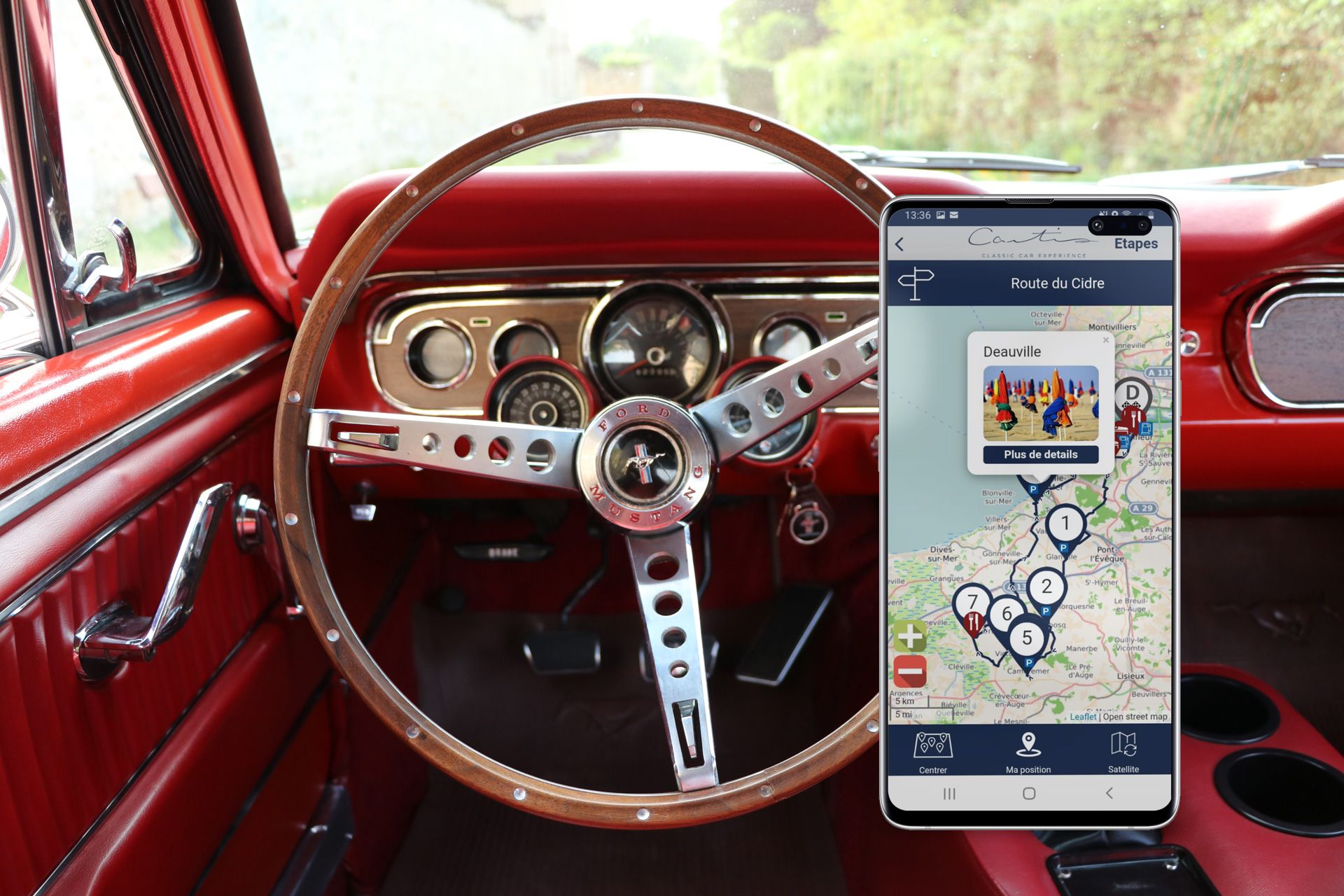 Our digital tourist application
Installed onboard each of our classic cars. No need for a map or guide!  The Cartis audio-guided GPS app is a revolution on the classic car rental market. This self-guided GPS audio app is built into each car. Simply turn the key, activate the GPS, and enjoy your classic car journey to the fullest.
Fonctionnalities :
Onboard GPS navigation
A genuine tour guide
Geofencing
Offline display
Off-route alerts
Printed travel guide
Your Cartis classic car rental includes :
Rental of the classic car of your choice
Provision of our tour-oriented audio guide GPS application
Inclusion of our travel logs pinpointing the places of interest
The planting and sustainable management of a tree on your behalf
Our recommendations of the best hotels, restaurants and local farms
The service does not include the reservation of hotels, restaurants or leisure activities.







"We purchased the Chevreuse Valley tour from you last September. The guide notes were superb and the routes fantastic. Already looking at some of your other tours for next year"
Amy T. - London - October 3, 2022
"Perfect wheather to be out in the convertible. Cartis app was absolutely amazing. Our trip would not have been nearly as interesting without this. Would definitely like to do the Chevreuse again."
Tim B. - Cape Town - September 20, 2022